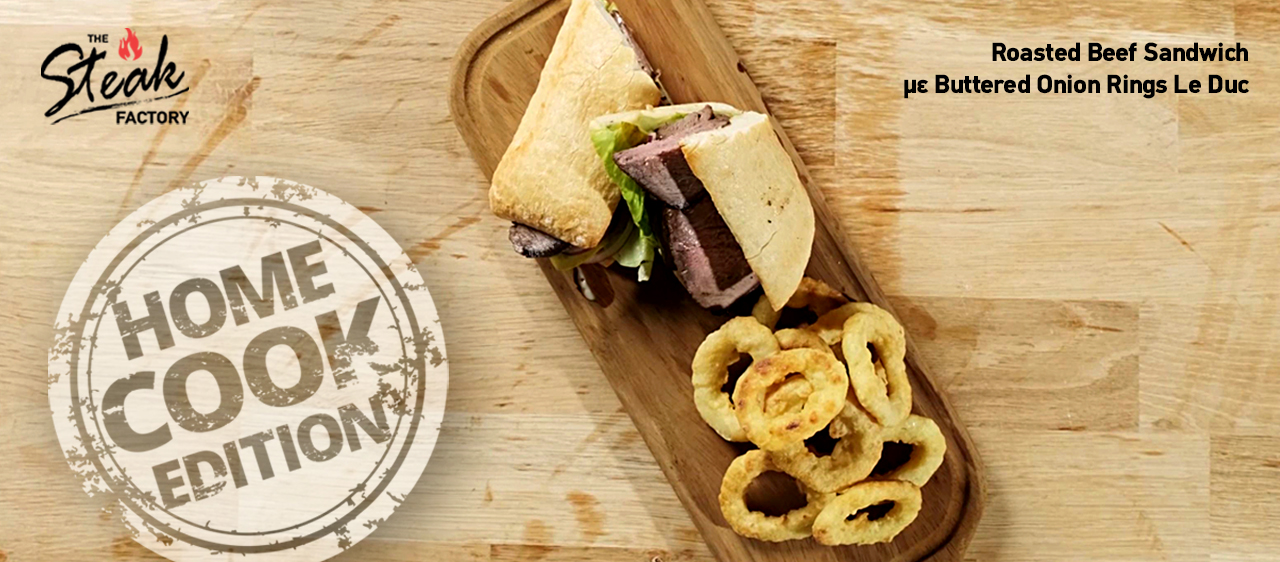 The Steak Factory presents another super delicious "Home Cook Edition'' episode with Chef Theodoros Eleftheriou.
This time around we introduce a flavoursome Roasted Beef Sandwich, made with a very pleasing to taste Wagyu Beef Knuckle and our crunchy Buttered Le Duc Onion Rings.
Ingredients:
1 ciabatta bread
1/3 red onion
1/2 garlic clover
30g butter
1 tea sp. seed mustard
1/2 tea sp. honey
2 tbsp. mayonnaise
2 lettuce hearts
50g provolone or emmental cheese
Pickled cucumber
Method:
Preheat the oven at 160°
Season all sides of the meat with saltic spices for beef and salt.
Put a pan on a high heat and add olive oil.
Add the beef and give colour on all sides.
Transfer to an oven pan with wax paper and bake in the oven for 2-3 hours. Let our meat rest covered with foil for about 30 minutes.
Turn the oven to 180°C and bake the onion rings in a pan with wax paper.
In a small bowl add the grated garlic, the butter and mix.
In another bowl add mayonnaise, mustard, honey and mix.
Cut the ciabatta in half. Spread the garlic butter on the bottom side and the grated provolone on top.
Place in oven for 3 minutes to melt the cheese.
On top add mayonnaise, lettuce, pickled cucumber and red onion.
Cut the beef into stripes and filled in the ciabatta. Serve with onion rings.